Hi Guys,
About this module and Features:
This is an image enlarger, cool prestashop module. Visit here http://www.giftlelo.com for live demo.
New Version 1.3
I've added a new page for version 1.3. Both works same but some UI improvements have been added in v1.3.
About this module
1. when you rollover on any of product image it will show an enlarge image.
2. Working on all listing page. (best seller, new products, homepage etc)
3. you can on/off animation effect.
4. you can set on/off magic zoom option. (Big image will be scroll on mousemove)
5. you can install/ uninstall at anytime.
6. its free :)
I've tested with Firefox and IE 7 & 8. Please tell me if you find any bug.
How to install:
Download and extract the zip file. copy and paste the folder into the modules directory. Go to admin panel click on MODULES tab find a module under 'Utilities' section. click on INSTALL button. You are done!
History:
version (v1.1) of this module:
Now this works for homefeatured products too. for that we were using homefeatured modified module. I would suggest not to use when you are using this updated module.
You can set animation status from admin panel. You dont need to update javascript code. :) Please have a look at the screen shot (v1.1).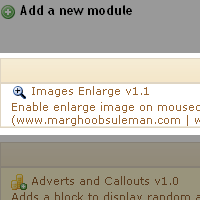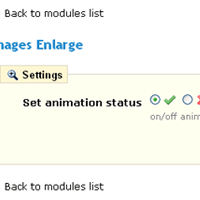 Old version modules are not available for download.